June 28 NO NUKES DAY

June 28 NO NUKES DAY
Halt Restart of Sendai Nuclear Power Plant
Big Protest in Tokyo: Goodbye Nuclear Power
Date: June 28, 2014 (Saturday)
Timetable:
13:00~ Rally
14:30 (planned) Big protest march
Assemble at: Meiji Koen Park
Access:
Sendagaya station (JR Chuo & Sobu lines) – 5 mins walk
Kokuritsu-Kyogijo station (Oedo line) – 2 mins walk
Gaienmae station (Ginza line) – 15 mins walk
Organizers: Metropolitan Coalition Against Nukes, Sayonara Genpatsu 10 Million People's Action, Genpatsu o Nakusu Zenkoku Renrakukai
Supporters: Nuclear Free Now, Keisansho-Mae Tento Hiroba, Saikado Soshi Zenkoku Network
Rally (13:00~@Meiji Koen Park)
Speeches
No-nukes Appeal: Katsuto Uchihashi, Hisae Sawachi, Chinatsu Nakayama, Hideyuki Ban
Report from Fukushima
Report from Sendai nuclear power plant area in Kagoshima Prefecture
Concerning lawsuit to halt restart of Oi nuclear power plant
Closing remarks: Satoshi Kamata
Moderator: Midori Kiuchi
(Info. on speeches updated as decided)
Big protest march (planned 14:30 start from Meiji Koen Park)

*Course will pass through Aoyama and Harajuku. Let's make our voices heard!
*Car with speaker (i ZooM i Rockers Hi-Fi feat. ECD & S.B. (SASPL))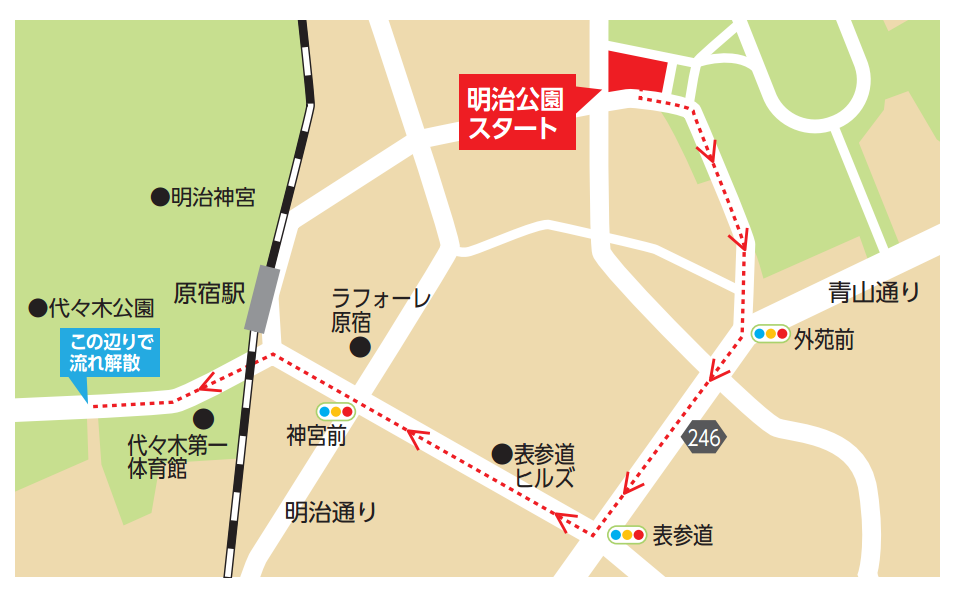 The protest march will leave in the following order.
Drum block ~ Safety block (For adults with children, elderly/with Zeronomikuma)
Car with speaker block ~ General public block ~ Organizations/Unions block
The reality is that the Abe-led LDP Party has largely ignored popular demand for no nuclear power and has backed away from the previous "zero-nuclear" policy proposed by the Democratic Party of Japan administration while clarifying its desire to restart nuclear facilities in its energy action plan. In addition, seismologist Kunihiko Shimazaki, who has been trying to hold nuclear plant operators accountable, will retire as a Nuclear Regulation Authority commissioner. As a result efforts are being made to force through a replacement who is part of Japan's Nuclear Power Village. It seems that very little has been learned from the Fukushima catastrophe of March 11, 2011 with a return to the same policies that existed prior to the disaster and an apparent abandoning of victims.
At present, no nuclear power plants are in operation, and there is enough electricity in Japan. Despite this and the fact that adequate evacuation plans have not been formulated, authorities are trying to engineer the restart of nuclear facilities throughout Japan, prioritizing the re-firing of the Sendai nuclear power plant in Kagoshima Prefecture. The Sendai facility has a high risk of explosion and should not be restarted under any circumstances. The key focus of efforts going forward will be to prevent the restart of this facility.
Recently, a landmark ruling was made by the Fukui District Court ordering Kansai Electric Power Co. not to restart the No. 3 and No. 4 reactors of the Oi nuclear power plant. This decision can be attributed to the hard work of the plaintiff group and legal team as well as the continued efforts of everyone involved in the anti-nuclear movement.
The assembly and protest march on June 28 aims to halt the restart of the Sendai nuclear power plant and will be held jointly by the Metropolitan Coalition Against Nukes, Sayonara Genpatsu 10 Million People's Action, and Genpatsu o Nakusu Zenkoku Renrakukai.
Join us and make your voice heard in Tokyo as we aim to halt the restart of the Sendai facility.
Notes
– Please make appropriate preparations for heat (bring drinks) and wet weather. – First-time participants welcome. – Approach staff if you feel unwell.
 – Make sure all banners and signs are related to the anti-nuclear movement.
 – Solicitation to participate in religious or other groups is strictly prohibited. – Please do not distribute any printed material to participants that has not first been approved by organizers. Please help with donations for this event.
You can donate directly on the day to staff members calling for donations, or donate to the following: Japan Post Bank (at Post Offices)
Account name: 首都圏反原発連合 ("Shutoken han-genpatsu rengo") Account number: 00170-1-291074
If you deposit from another bank, use the branch number 019. *Please put "0628 kanpa" in the reference section.
Flier for distribution
Please download and help with distribution.
For large amounts of fliers, please contact us. * Please understand that we are unable to specify date/time of delivery. * Please also note that we may be unable to provide the number of fliers requested.
Click here and fill out the form to help with flier distribution (Form in Japanese only)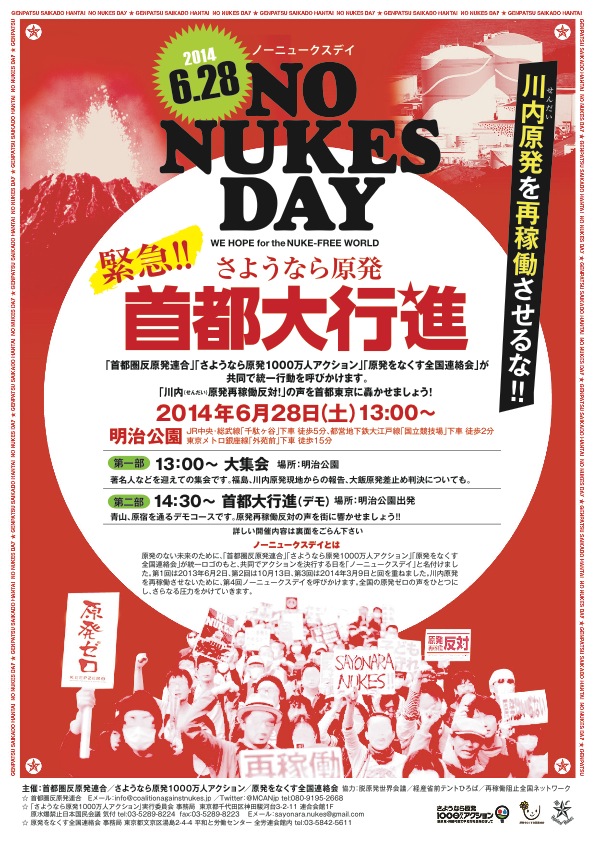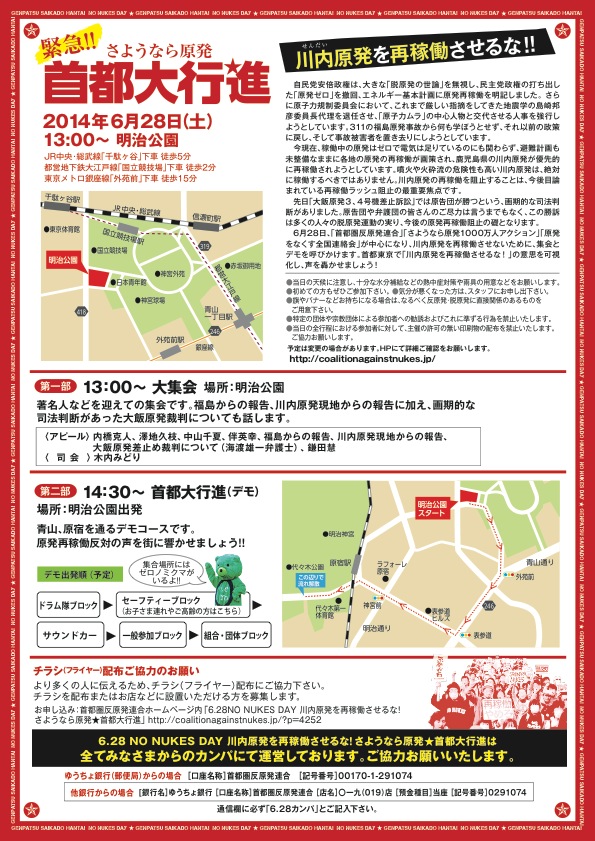 6.28omote.pdf(649KB)
6.28ura.pdf(805KB)
About NO NUKES DAY
NO NUKES DAY has been designated as a day for united action aiming for a nuclear free future and is a united initiative of the Metropolitan Coalition Against Nukes, Sayonara Genpatsu 10 Million People's Action, and Genpatsu wo Nakusu Zenkoku Renrakukai. Previous NO NUKES DAYs have been held on June 2, 2013, October 13, 2013 and March 9, 2014. The fourth NO NUKES DAY on June 28 aims to halt the restart of the Sendai nuclear power plant. Let's join together around Japan and the world to put further pressure on authorities to make Japan nuclear free.